Wann:
28. August 2021 um 22:30
2021-08-28T22:30:00+00:00
2021-08-28T22:45:00+00:00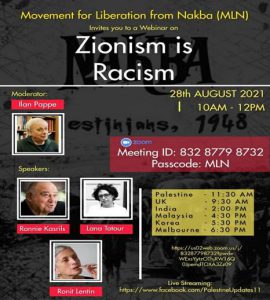 Kairos Palestine lädt ein zu einem wichtigen Webinar mit dem Titel "Zionis is Racism"
am 28. August 2021
09.30 am in UK-Time ist 22.30 in Deutschland
I am forwarding to you this invitation to the Webinar "Zionism is racism" on Saturday Aug 28th, 2021 at 11 30 am Palestine time, 09 30 am UK time, 02:00 pm India time, 04 30 pm Malaysia time, 05 30 pm Korea time, 06 30 pm Melbourne time
Join us at the webinar link:
https://us02web.zoom.us/j/83287798732?pwd=WExsYytzOThjRW16Q0JpemdTOXA3Zz09
Meeting ID: 832 8779 8732
Passcode: MLN
Mit Ilan Pappe, Ronnie Kasris, Lana Tatour, Ronit Lentin.
On the 10th November, 1975, the United Nations General Assembly adopted Resolution 3379, which determined that "Zionism is a form of racism and racial discrimination". The resolution was passed with the support of the Soviet bloc, in addition to the Arab- and Muslim-majority countries, many African and Asian countries. With the collapse of the Soviet Empire, the 'Cold War 'ended and the world saw the launch of a unipolar world. The determination that "Zionism is a form of racism and racial discrimination" was revoked in 1991 with UN General Assembly Resolution 46/86.
This webinar reasserts that "Zionism is Racism" and will be addressed by eminent scholar-activists. It is organized by the Movement for Liberation from Nakba (MLN) – coalition of organizations and individuals, Asia, Middle East, Palestine, South Africa, and the UK. The coalition aims to disseminate knowledge about Palestine Asia and is a project of education and information on the history of Palestine, the 1948 Nakba, and the Palestinian minority inside Israel, the occupied West Bank, the besieged Gaza Strip and the plight of millions of Palestinian refugees. It is also a project in solidarity with the Palestinian struggle for freedom and liberation as well as a source of information and data about this struggle since its inception until today.
Hopefully you'll be able to join this important webinar.